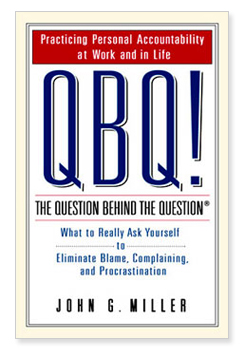 Hardcover - 125 pages
Putnam Publishing Group | English Edition
List price: $19.95 USD
Eliminate blame, complaining and procrastination today!
Get the book that's sweeping the country — and the world! 750,000 copies in print in twenty languages. Published by Putnam. (A division of The Penguin Group and publishers of the smash best-seller "Who Moved My Cheese?"). This is the book you're going to want to get for everyone you know — though you should read it first!
QBQ! is a quick read which makes it a marvelous book for the busy person — at work and at home. It also is an excellent tool for teams, study groups, and as a give-away at conferences. Full of fun, light-hearted, true-life stories, QBQ! and its message of personal accountability work equally well for corporations, academia, nonprofits, churches, and government organizations.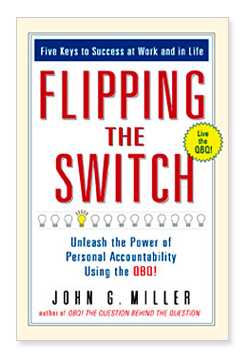 Hardcover - 127 pages
Putnam Publishing Group | English Edition
List price: $19.95 USD
Take QBQ! to the next level!


Flip the switch to unleash the power of personal accountability and watch your career take off and your relationships flourish. Flip the switch and discover how personal accountability jump-starts these five key principles, sparking unbelievable success at work and in life:
Learning - Living an engaged and energized life through positive personal growth and change.
Ownership - Attain goals by becoming a solution-oriented person who solves problems.
Creativity - Find new ways to achieve by "succeeding within the box."
Service - Do for others what you don't have to do, and build a legacy by helping people succeed.
Trust - Develop deep and rewarding relationships.
Live the QBQ! Advantage Principles to gain the edge in every area of your life.
Flip the switch today!